American Classic Cadillac Parts and Cars For Sale
| | |
| --- | --- |
| 1950 Cadillac Coupe. This car has had a restoration started. Completely apart, many parts rebuilt/new. | 1959 Cadillac Sedan Deville. Needs restoration. |
| 1955 Cadillac Fleetwood. Runs. Needs Restoration. Has factory AC. | 1959 Cadillac series 62 Sedan. |
| 1958 Cadillac Coupe Deville. Loaded car with tri-power, power windows, power vent, windows, power door locks, radio foot control, power trunk, air conditioning, fog lights, power antenna, power seat, automatic eye. New paint, chrome, leather interior. | 1960 Cadillac Coupe. Driver in primer. Driver quality interior. |
| 1959 Cadillac 4W Sedan Deville Flattop. Newer paint, good chrome, power locks, power vent windows, power windows/seat etc., air conditioning. | 1960 Cadillac 4W Flattop. Runs, needs restoration. |
| 1959 Cadillac Miller Meteor Ambulance. Nice original car. Originally an Air Force car. | 1960 Cadillac Convertible. White Top, Red withred leather. Good car. |
| 1959 Cadillac Coupe Deville. Original Black car w/black and white interior. | 1961 Cadillac Series 75 Limo. Solid car, needs restoration. |

1957 CADILLAC SUPERIOR AMBULANCE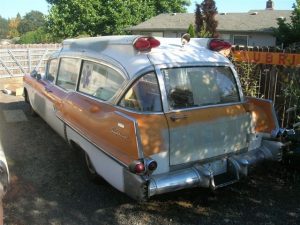 This 1957 Cadillac Ambulance is complete and is in very clean condtion for its year. All inquires are to e-mail me and I will pass on your information to the owner of this very clean 1957 Cadillac Ambulance (superior) this clean Cadillac has very little rust on the body, fender, hood and rear door, this Cadillac is for sale at a firm price of $14,500. The insides will need some work as you would expect on a 1957 classic Cadillac. The rear bumper ends on this Cadillac are in workable condtion, as you well know these bumper ends are very, very, hard to find. The front and rear bumper are overall clean. Please e-mail me on the above email to gain the owners details, $14,500 firm.... thank you!
NEW ARRIVALS
Febuary 2nd 2011
New arrivals to Classic Cadillac this month are a 1983 Cadillac coupe devile; 1983 cadiilac sedan deville. Both these Cadillac are rich with rust free panels and fenders, doors; hoods. Please email me for pictures of these classic Cadillac's. Also to new Cadillac parts is a 1955 Cadillac sedan and 1977 Cadillac coupe, again these cars are very much rust free with clean hoods, trunks, fenders; doors.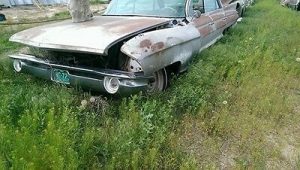 New to Americanpartsrestocar.com is this 1961 Cadillac Parts car. This 1961 Cadillac has many decent parts inside and out. It has a full original A/C system. The engine is complete with all parts. The fenders are in poor condition.
All other body parts are in clean condition. Bumpers front and back are very clean. Please ask us about our stock piles of used 1961 and 1962 and 1963 Cadillac front bumpers.